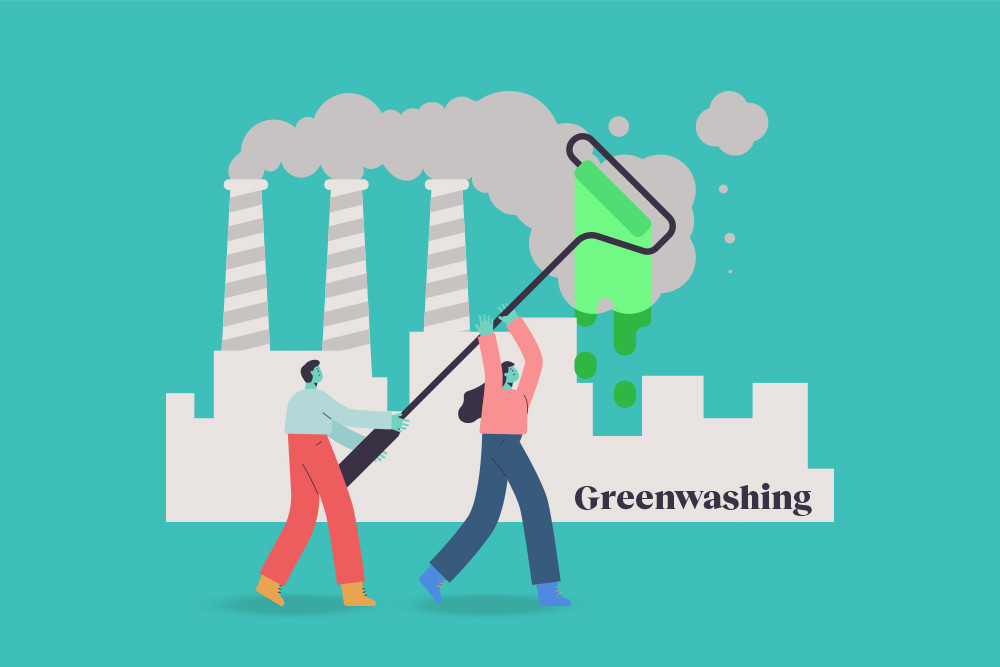 What Is Greenwashing?
3 min read
15 Aug, 2022
By Shivani Hemnani
How many times have we followed a trend just to fit in with the "cool kids" even if meant being untrue to ourselves? The reality is, many of us have fallen prey to peer pressure at some point. But individuals aren't the only ones who conform to a trend to stay relevant. Businesses do too, and because ESG (Environmental, Social, and Governance) and sustainability are the hot topics of today, many companies partake in something called "greenwashing."
Why greenwash?
Greenwashing is defined as the process of making misleading statements, in order to market a company or its products as being environmentally sustainable. Some examples of greenwashing are:
Making vague or false environmental claims that are not backed up by hard evidence or third-party certifications
Placing emphasis on irrelevant issues (for example, saying a phone is "CFC-free" when CFCs are already banned by law)
Hiding "trade-offs" — essentially, highlighting small environmental victories in order to mask a larger, potentially more concerning issue (for example, banks advertising their issuing of sustainable bonds while financing companies that harm the environment)
Greenwashing is on the rise as companies that boast of high ESG scores and sustainable practices are gaining traction in both financial and non-financial aspects. We've seen the S&P 500 ESG Index beat the S&P 500 Index since the first market slump in early 2020, record issuance of sustainable bonds in the year 2021, studies that show ESG factors drive consumer preference, and customers willing to pay a premium to go green. As a result, many companies may try to emulate this success by exaggerating how environmentally sustainable they really are.
Some companies resort to greenwashing as they come under pressure to comply with environmental industry standards or regulatory requirements. One such example is when Volkswagen admitted to cheating government-required emissions tests by fitting various vehicles with "defeat devices."
The rewards of being truly sustainable are sustainable
What companies sometimes forget is that greenwashing is not sustainable (pun unintended). Those who greenwash risk getting exposed by an informed consumer or a gatekeeping group, which can backfire on the company's reputation. A recent example would be when H&M launched its "green" clothing line called Conscious. In this instance, the retailer claimed to use organic cotton and recycled polyester, but didn't provide enough evidence to back up its marketing. The company then faced criticism for misleading claims
In the case that the truth behind an organization's greenwashing claims goes uncovered, it is still at a loss as it only enjoys the superficial benefits of being a "responsible" business. It doesn't reap the added value that actual sustainable business can receive — like lower operational costs, loyal customers, or positive shareholder returns.
Greenwashing faces legal implications in the future
Most importantly, responsible ESG practices minimize regulatory and legal interventions, which in turn means less negative publicity and fines. This is exemplified in Volkswagen's case, wherein the car manufacturer was fined $125 million for its emissions scandal, and saw further losses as a result of having to recall close to 12 million of its cars worldwide. The spiral translated into business losses and negative shareholder returns.
The greenwashing crackdown will continue with new environmental laws being written. The EU has decided to amend its new consumer rules to address greenwashing concerns, requiring producers to provide greater transparency on product information to avoid misleading claims. The UK is also targeting greenwashing with the Competition and Markets Authority's Green Claims Code.
Organizations are driven towards greenwashing because of peer, consumer, or legal pressures. However, by doing so these businesses miss out on the true benefits of being sustainable.They also might expose themselves to the threat of legal action as more legislation is being drafted against greenwashing. As a result, these companies risk reputational damage, financial losses, and negative returns for stakeholders. Until regulators catch up to all the companies engaging in greenwashing, it's up to us to be on the lookout for common greenwashing tactics, and stay fully informed about the purchases and investments we make.
∙ ∙ ∙
The views expressed are those of the author at the time of writing, are not necessarily those of the firm as a whole and may be subject to change. The information contained in this advertisement is for informational purposes and should not be regarded as an offer to sell or a solicitation of an offer to buy any. It does not constitute a recommendation or consider the particular investment objectives, financial conditions, or needs of specific investors. Investing involves risk, including the loss of principal. Past performance is not indicative or a guarantee of future performance. We do not provide tax, accounting, or legal advice to our clients, and all investors are advised to consult with their tax, accounting, or legal advisers regarding any potential investment. The information and any opinions contained in this advertisement have been obtained from sources that we consider reliable, but we do not represent such information and opinions are accurate or complete, and thus should not be relied upon as such. This is particularly true during periods of rapidly changing market conditions. Securities offered through Fennel Financials, LLC. Member FINRA SIPC.