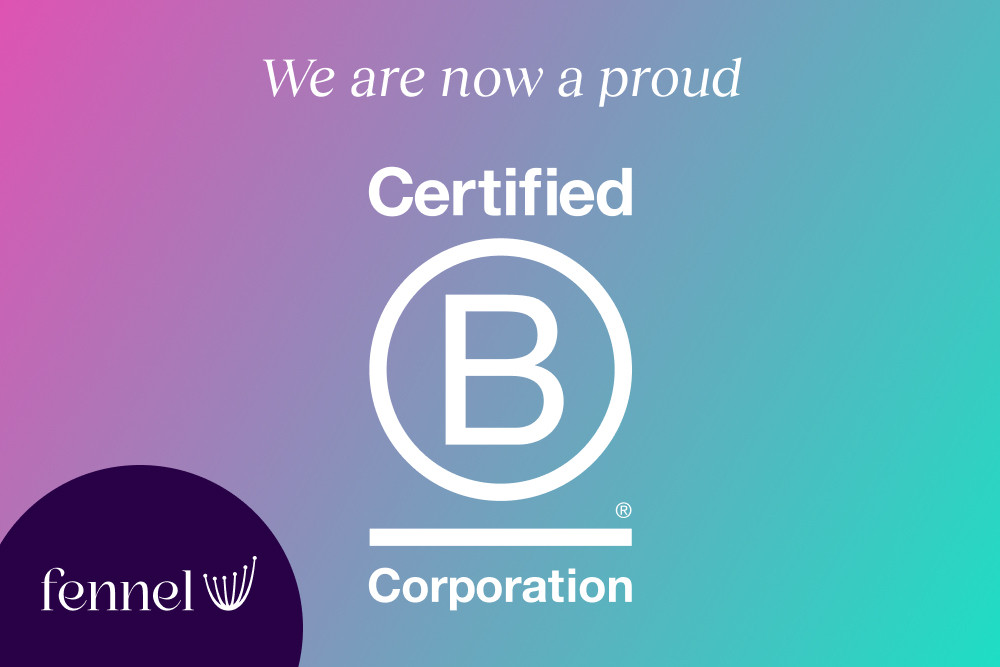 Fennel Receives B Corp™ Certification
2 min
01 Aug, 2023
By Fennel
ESG & shareholder voting-focused brokerage becomes Certified B Corporation™, highlighting commitment to sustainable and regenerative economy
NEW YORK, [August 1, 2023] – Fennel, a mobile investing platform that empowers users to invest while easily integrating environmental, social, and governance (ESG) factors, is proud to announce that it has received official B Corp Certification. Through its app, Fennel enables investors to leverage ESG data, to gain insight into the results and impacts of shareholder votes, and to invest in alignment with their vision for the world.
B Corp Certification is provided to companies that have demonstrated exceptional social and environmental performance through a rigorous third-party impact assessment conducted by B Lab™, a global nonprofit organization.
"Becoming a B Corp as a fintech startup is a huge source of pride for us, especially amidst the ongoing debate around ESG in government and finance," said Daniel Naim, CEO and Founder of Fennel. "Being proactive about our impact has already had positive material results for our business. We firmly believe that the lens of sustainability will reshape the way people approach investing, and we want to commend B Lab for elevating the global standard for third-party impact assessments."
Fennel joins the ranks of other notable companies dedicated to considering the interests of all stakeholders in their business operations: workers, customers, communities, and the environment. "As a still young company, we're grateful for how this process has pushed us to continually improve our practices," Naim expanded. "This will hopefully only display our baseline commitment to fostering a more equitable and regenerative society. We're honored to join this movement and community of like-minded businesses."
The certification also reflects Fennel's commitment to resiliency and longevity, as recertification is required every three years to prove it can meet the ever-rising standards for social and environmental performance.
To learn more about Fennel and B Corp Certification, please visit www.fennel.com and www.bcorporation.net.
About Fennel
Fennel is a mobile investing app that empowers individuals to understand a company's impact through accessible ESG data and shareholder voting info. By providing investors with valuable insights into how companies operate and their broader societal impact, Fennel aims to drive positive change and create a more sustainable future. Fennel refers to Fennel Markets, Inc. and Fennel Financials LLC. Securities are offered through Fennel Financials LLC, member FINRA/SIPC.
Disclosures:
The information provided is for information purposes and should not be regarded as an offer to sell or a solicitation of an offer to buy any investment or financial product. It does not constitute a recommendation or consider the particular investment objectives, financial conditions, or needs of specific investors. The price and value of any the investments referenced and the income from such investments may fluctuate, and investors may realize losses on these investments, including a loss of principal. Past performance is not indicative or a guarantee of future performance. Fennel does not provide tax, accounting, or legal advice to our clients, and all investors are advised to consult with their tax, accounting, or legal advisers regarding any potential investment. The information and any opinions contained in this communication have been obtained from sources that we consider reliable, but we do not represent such information and opinions are accurate or complete, and thus should not be relied upon as such. Fennel Financials LLC is a broker-dealer registered with the U.S. Securities and Exchange Commission, a member of FINRA and a member of SIPC.
For media inquiries, please contact:
Gordon Gottsegen
Head of Editorial
gordongottsegen@fennelmarkets.com
(877) 606-3565