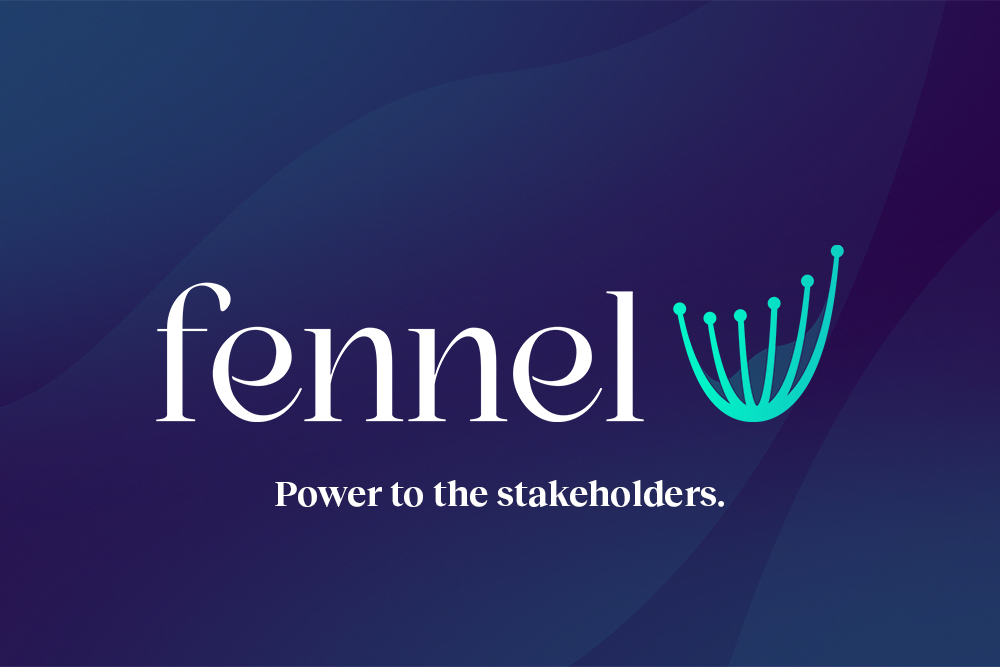 Fennel Launches ESG-Data Driven Investment Platform for Everyday Retail Investors
3 min read
16 Nov, 2022
By Fennel
Backed by Jeff Cruttenden, founder of Acorns, Capital Factory, Temerity Capital Partners and more, Fennel has raised over $5M in funding to provide transparent financial and ESG-data to investors.
NEW YORK--(BUSINESS WIRE)--Fennel, an ESG-focused platform that gives retail investors access to tools to better engage with companies, today launched their mobile investing app with $5M in seed funding. Fennel's key feature is its in-app ESG data and rankings, which provides useful information to retail investors on public companies' environmental, social and governance practices. With Fennel, users can invest in publicly-listed stocks and ETFs as they analyze detailed ESG data and further understand how the companies they invest in impact the world they live in.
Today, with over 82% of all global retail investors interested in sustainable and socially-responsible investing, and global sustainable fund assets reaching $2.7 trillion by December of last year, the call for ESG-driven investing will keep growing louder as the next generation continually challenges current institutions and power structures. Fennel's ESG data can also help inform investors ahead of shareholder votes. Shareholder voting creates a communication channel between companies and investors, yet only 28% of shares owned by retail investors were used to vote in 2020.
"The retail revolution is only just getting started. The next generation of investors are yearning for their voices to be heard. Today, the shareholder voting process is an overlooked method of invoking positive corporate change. Our mission is to give everyone a voice in the companies they invest in, not just the top 1% with formidable seats at the table," said Daniel Naim, founder and CEO of Fennel.
With Fennel, retail investors can easily invest in alignment with their values and with the ESG-related issues they are passionate about, covering a plethora of issues such as the gender and cultural identity wage gaps, carbon emissions, and climate change. Fennel provides information about past and upcoming shareholder votes in order to show investors how they can play a part in guiding a company's decisions. It also allows investors to follow specific ballots to track their outcomes. Additional voting features will be rolled out after Fennel's initial launch. In addition, Fennel does not lend out their users' securities, ensuring that the investor's votes follow their shares. Out of principle, Fennel does not participate in payment for order flow (PFOF) either.
"Fennel is truly bringing a new model for investing into the marketplace. Most brokerage firms are using two ethically questionable methods, PFOF and doing securities lending, which is what sets Fennel apart. Fennel aims to be a channel for retail investors to organize on a platform and develop investment tribes, surrounding issues from gender equality and zero carbon waste," said Strategic Business Advisor Hitch McDermid.
Fennel was founded by Daniel Naim, a former Physics PhD student and dark matter researcher. Growing up in Beirut, Lebanon, he witnessed firsthand the socioeconomic inequities that fester right under individuals' noses. Later in his life, his career in the sciences exposed him to the grave threat of climate change. Daniel hopes that he can use Fennel to help address both of these issues.
"Investing is about ownership. To have ownership is a special privilege, and to actually make an impact by interacting with companies, not just understanding what you're buying, is integral to that special privilege," said Fennel investor and Acorns co-founder, Jeffrey Cruttenden. "Fennel has given everyday investors the tools to evaluate companies from a socially good perspective. It's an ambitious project but Daniel and his team are the right people to lead the way."
Fennel has raised $5M from a collective of strategic investors and advisors, including Larry Sonsini, founding partner of Wilson Sonsini Goodrich & Rosati, former Managing Director of Trading at Blue River Asset Management Paul Sinsar and John Rundle, Distinguished Professor of Physics and Applied Mathematics at UC Davis. Temerity Capital Partners, co-founder of Acorns and Say Technologies Jeffrey Cruttenden, and Preston Butcher, former board member of Schwab and former Chairman and CEO of Legacy Partners Preston Butcher have also invested in Fennel.
About Fennel
Fennel is a mobile investing app that helps people understand a company's impact through digestible ESG data, as well as past and upcoming shareholder votes. With this information, Fennel allows investors to learn more about how companies operate and how they affect the world. Fennel refers to Fennel Markets, Inc., and Fennel Financials LLC. Securities offered through Fennel Financials LLC, member FINRA/SIPC.
Disclosures:
The information provided is for information purposes and should not be regarded as an offer to sell or a solicitation of an offer to buy any investment or financial product. It does not constitute a recommendation or consider the particular investment objectives, financial conditions, or needs of specific investors. The price and value of any the investments referenced and the income from such investments may fluctuate, and investors may realize losses on these investments, including a loss of principal. Past performance is not indicative or a guarantee of future performance. Fennel does not provide tax, accounting, or legal advice to our clients, and all investors are advised to consult with their tax, accounting, or legal advisers regarding any potential investment. The information and any opinions contained in this communication have been obtained from sources that we consider reliable, but we do not represent such information and opinions are accurate or complete, and thus should not be relied upon as such. Fennel Financials LLC is a broker-dealer registered with the U.S. Securities and Exchange Commission, a member of FINRA and a member of SIPC.
Contacts
Bevel
Caden Kinard
fennel@bevelpr.com