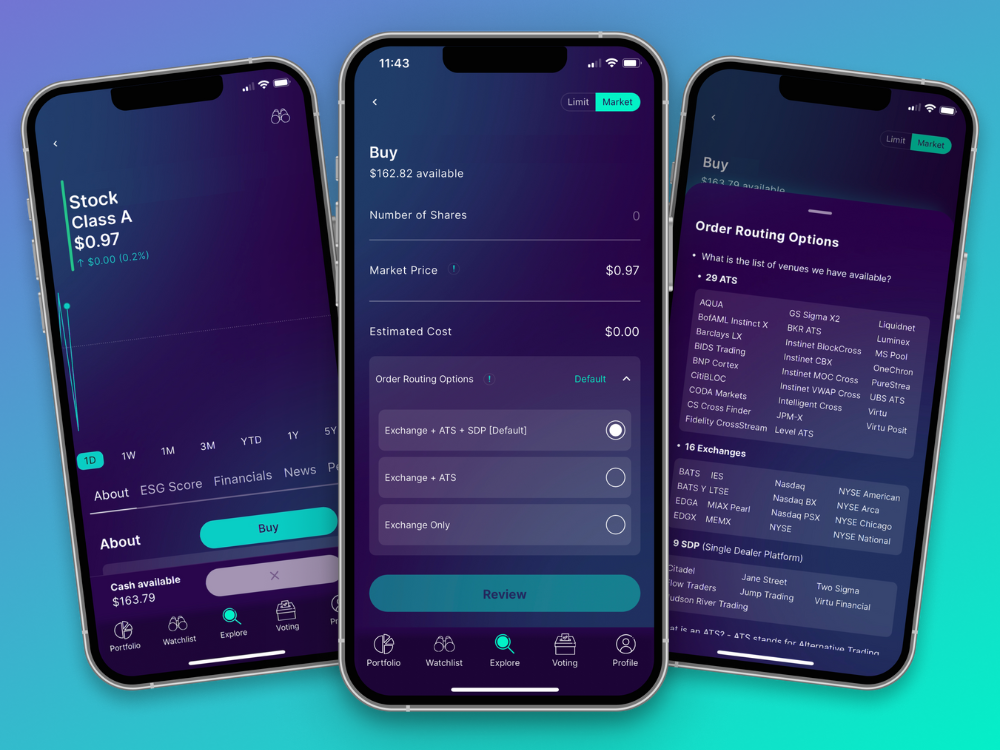 Decide Where Your Orders Go With Fennel's Order Routing Feature
Fennel is giving you even more control over your portfolio by letting you decide how your orders get routed.
3 min
October 04, 2023
By Fennel
Odds are, you downloaded Fennel because you want to pick the stocks and ETFs in your portfolio. You want to use Fennel's access to data to do your own research. Or maybe you want to vote your shares in accordance with your beliefs.
Now, Fennel just released a new feature to give you even more control over your portfolio — custom order routing.
What does that mean? When you want to trade a security through Fennel, you place a buy or sell order that your brokerage (us) then has to complete. This involves finding a counterparty (i.e. a buyer or seller) for your order.
But there are a handful of different trading venues that your order can go to in order to find a counterparty. You probably already know about stock exchanges like the New York Stock Exchange or NASDAQ, but stock exchanges are just one type of trading venue. There are also alternative trading systems, dark pools, single dealer platforms, and others. Each of these trading venues come with their own potential benefits.
Fennel's custom order routing feature lets you decide the type of trading venue your order gets sent to. So if you're the type of investor who wants control over your orders, you'll be eager to test out the new feature.
How can I decide where my orders go?
As of Fennel's latest app update, investors will be able to access our order routing feature every time they place an order.
Here's how to use it:
• Choose the stock or ETF you'd like to trade
• Select "Trade" and then "Buy" or "Sell"
• When you're on the order screen, scroll down to see "Order Routing Options"
• Expand the "Order Routing Options" drop down menu, and select one of Fennel's three custom options
• You can also tap the "!" icon to learn more about each of the three options and see the full list of trading venues
• When ready, tap "Review" and then place your order
As mentioned above, Fennel gives you three options to route your orders.
The first is Exchange Only. This is the most basic option. If you select this option, your order will be routed to the 16 stock exchanges Fennel works with, and executed at the one best suited for your order.
The next is Exchange + ATS. This option routes your order to the 16 stock exchanges in the Exchange Only option, as well as 26 alternative trading systems. These ATS's act similarly to exchanges, but they are not exchanges and do not meet the requirements of an exchange. ATS's are operated by broker dealers and must be approved by the SEC prior to operating. Sometimes, these ATS's are "dark", which means they allow traders to stay anonymous until after the trade is executed. Sometimes, these ATS's offer access to better prices than available on the exchanges.
The final option is Exchange + ATS + SDP. This option provides access to the venues mentioned above, as well as 7 single dealer platforms. Single dealer platforms are trading venues operated by a single broker dealer or market maker, where they act as the main counterparty for each order that comes in. This is Fennel's default order routing option, because it routes your order to the largest number of trading venues. This means you have access to more opportunities for better price discovery and potential best execution.
Although Fennel's default routing option may be good enough for many investors out there, we wanted to provide our users with the ability to pick and choose based on their own preferences.
Only want your orders going to "lit" stock exchanges? Go for it. Want to get access to dark pools when you trade? Sounds good to us. Think market makers can offer you the best price through an SDP? That's your call.
If you opened a self-directed brokerage account with Fennel, there's a good chance it's because you want to have control over your portfolio. Our custom order routing feature is just one way to give you even more control.
• • •
The views expressed are those of the author at the time of writing, are not necessarily those of the firm as a whole and may be subject to change. The information contained in this advertisement is for informational purposes and should not be regarded as an offer to sell or a solicitation of an offer to buy any. It does not constitute a recommendation or consider the particular investment objectives, financial conditions, or needs of specific investors. Investing involves risk, including the loss of principal. Past performance is not indicative or a guarantee of future performance. We do not provide tax, accounting, or legal advice to our clients, and all investors are advised to consult with their tax, accounting, or legal advisers regarding any potential investment. The information and any opinions contained in this advertisement have been obtained from sources that we consider reliable, but we do not represent such information and opinions are accurate or complete, and thus should not be relied upon as such. This is particularly true during periods of rapidly changing market conditions. Employing ESG strategies may not result in favorable investment performance. Securities offered through Fennel Financials, LLC. Member FINRA SIPC.